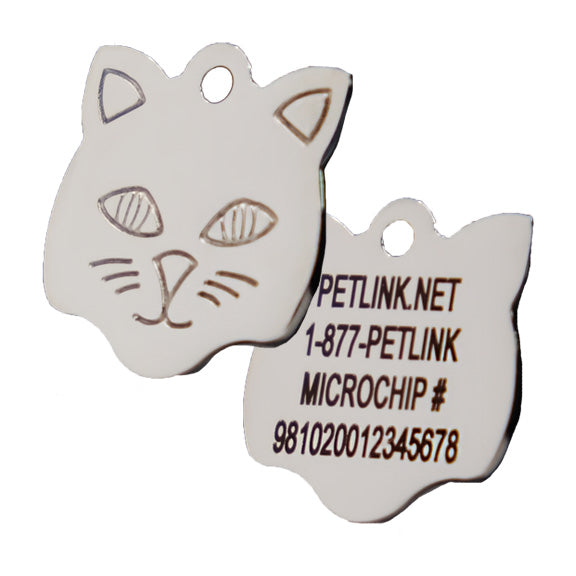 Cat Face Stainless Steel Collar Tag
This product is only available for pets registered with PetLink!
---
Add a personalized PetLink Collar Tag to your pet's collar today. The PetLink Collar Tag acts as an added safety beacon to let people know that your pet has a microchip. It also keeps your personal information safe and password protected online.
This classic cat shaped ID tag made of durable stainless steel. The permanent laser engraving is clear and attractive on polished steel. Great size for cats small and large. This tag is sure to be a purr-fect match for their personality. 
You do need to have a PetLink account to purchase the PetLink Collar Tag, that way PetLink can help reunite you with your pet in the event that your pet is lost. 
One size available:
1" x 1" in.
Attention users placing orders on mobile devices: the character limitation may not function correctly on your mobile device.  Please follow the character limit guidelines for this product.  If you submit an order that does not conform to the allowed character limits, your product will not print correctly.  Do not use special phone character or emojis; they will not be printed.  Please review your order carefully and follow all order guidelines.  There are no returns or exchanges for personalized products.
All orders are final and cannot be exchanged or returned. Please double check your order details carefully.
*The one year warranty does not apply to this product.*
---
Share this Product
---
More from this collection